Hardware Store in Altoona, PA
Since 1947, Mallow's Hardware has brought the very best in home improvement supplies to Altoona, Wopsononock, Blair County, Hollidaysburg, and Duncansville, PA. With a wide variety of hardware supplies, including custom wood, electrical parts and tools, plumbing equipment, and other houseware, we are your one-stop hardware shop for all your home improvement needs.
Your Quality Quality Paint Store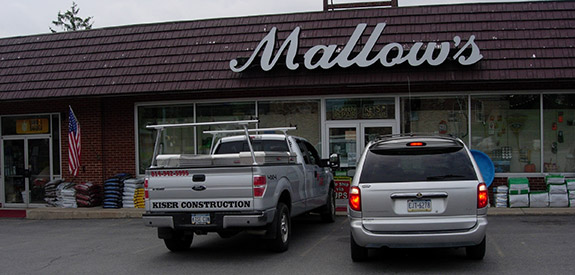 At Mallow's Hardware, we bring you top-quality hardware in Altoona, PA. For nearly 70 years, our knowledge and friendly sales experts have helped customers find exactly the supplies and equipment they need for their home improvement needs. Whether you need to install upgrades or remodel your home, we can help. We are a family-owned and operated hardware store in Altoona, PA, with an extensive collection of supplies from paint to wood to tools and more. In addition to sales, we provide services for our customers, including key duplication, propane tank refilling and carpet cleaning equipment rental.
There are other hardware stores in Altoona, PA, but only Mallow's Hardware brings you the most in custom home construction supplies. We carry lumber, plywood, paint, electrical equipment, tools, lighting fixtures and more. Additionally, our paint store sells a variety of piping, including copper pipe, galvanized pipe and PVC pipe. Contact us today to learn more! We are members of the National Federation of Independent Business, and we are your 3rd generation, family-owned and operated hardware store in Altoona, PA since 1947. For decades, customers have chosen us as their number one hardware shop because:
We offer the very best in hardware supplies.
We carry everything you need for home improvement.
We provide blade key duplication and other services.
We have been family owned and operated for over 70 years.
Our prices are competitive and fair.
Service Areas
Altoona, PA
Bellwood, PA
Hollidaysburg, PA
Coupon, PA
Ashville, PA
Dysart, PA
Chest Springs, PA
Loretto, PA
Gallitzin, PA
Williamsburg, PA
Tipton, PA
Birmingham, PA
Alexandria, PA
Tyrone, PA
Foot of Ten, PA
Newry, PA
East Freedon, PA
Claysburg, PA
Cresson, PA
Patton, PA
Glasgow, PA
Fallentimber, PA